TECH-NET Professional is an elite performance network where independent service facility members have a common goal of being world-class automotive service facilities. The TECH-NET Professional program provides superior customer service by combining high-quality CARQUEST Auto Parts, skilled automotive technicians and innovative consumer marketing programs.
The TECH-NET Professional Mission Statement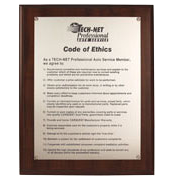 TECH-NET Professional is committed to serving you, our customer, with professional automotive repair at a reasonable cost with qualified technicians. We use quality CARQUEST Auto Parts, guaranteed coast to coast. We stand on sound business principles and uphold high ethical standards. Our goal is to make your automotive repair experience friendly and successful.
these wonderful souls saved my life (okay not literally but they saved my road trip). My car broke down the day before I had to leave for a long drive to head way up north and these wonderful individuals were able to fit me in ASAP and get my car fixed and safe to make the trip! I had no delay because of them!
While mostly a mechanic shop, Mike had a car for sale that we found on AutoTrader. I had dreaded the thought of buying an earlier model used car as all of them seemed to be uncertified on shady lots. After talking to Mike for a few mintues, my first feeling was relief. He was very reasonable to work with and allowed us (with some reasonable stipulations) to take the car to be reviewed by our mechanic. We did this, and promptly purchased the car. It was clean and Mike was upfront with the CarFax report. Thanks so much Mike for your help in making what I was expecting to be a nightmare a very easy and honest process.
I just want to say the Mike and the team at Auto Trust Tech are sensational. They go above and beyond for their clients, with exceptional service and care. They not only care about the vehicle as if it's their own, they care about their clients and that level of customer service I haven't seen before. I am so lucky my brother and father referred me to this mechanic and I truly feel like you're in the best of hands.